Update- Giveaway has ended!
Everyone has a woman or two in his or her life to shop for- moms, grandmas, wives, girlfriends, sisters, etc. I put together a fun list of ideas for you to make those ladies smile!
Instead of picking specific gifts, I wanted to support some local and handmade shops and designers as part of my guide (affiliate links may be used). Let's get shopping!
GIFT IDEA #1- Fashion, Jewelry, Accessories
I know it's sometimes hard to pick out clothes or jewelry for someone else- but I promise you'll find something for her at one of these lovely shops.
CLOTHES: the Arizona local boutique Clothes Minded carries one-of-a-kind pieces that are consistently updated to reflect the latest trends. With beautiful pieces and great prices, this boutique offers a great place to shop, both in person and online. So hop over and check out pieces like this Marked Asymetrical Sweater (I'm in love!)
JEWELRY/CLOTHING/ACCESSORIES: Next, the daily deal site Jane features deals on fashion, accessories and home decor. I picked out a few pics so you can see the kind of deals they have. Everything is fashionable and on-trend. I promise you'll find something for any woman on your list here! Everything is 30-75% off normal prices, so check back often! Hint: sign up for daily emails so you never miss a deal- plus you usually get a welcome coupon code towards your purchase! Leave time for shipping as items are often handmade and take extra time to get to you.
P.S. Ladies love monograms!!!
GIFT IDEA #2- Art Prints
Women love home decor. And they love having something unique to display in their home.
Check out these two beautiful shops for handmade, affordable art prints. Frame it up and you have a thoughtful, beautiful present.
First up is Oh Lovely Day Design. Here you'll find fun geometric prints, adorably designed quotes, and even seasonal prints!
Life Created has beautiful still-life photos that are perfect for her kitchen, office, or craft room.
I love how everyday objects can become art with the right eye and would love to have these hanging on my wall!
GIFT IDEA #3- Beauty Products
JAMBERRY NAILS: Have you tried them yet? I LOVE wearing them on my toes. They have tons of designs, both that stand alone and that compliment a polish mani/pedi. For half the cost of a manicure, you get at least three different applications for each set of jams!
Here are some of my favorite designs:
Click here to shop Jamberry's catalog.
GIFT IDEA #4- Books or E-books
Have a reader on your list? One of my favorite books I read this year is The Pearl That Broke Its Shell. This book is written by Nadia Hashimi, who I know through a very close friend. This novel chronicles the lives of two Afghan women, one in the present, one in the past, and how their difficult lives aren't all that different despite being separated by two generations. It is nominated in two categories for the Best Books of 2014 Goodreads Awards.
Travel Mamas has an awesome guide for women who travel with kids! Quoting their website, The Travel Mamas' Guide

takes the worry out of family vacations so traveling parents and children can focus on fun. Author Colleen Lanin (a.k.a.

The Travel Mama

) gives practical advice and shares humorous tales from moms and dads, travel aficionados, and childcare experts in the award-winning guide

.
This is an awesome resource for anyone visiting family or planning vacations this year. It won the 2014 San Diego Book Award for Best Travel Book. It's available in paperback or as a Kindle e-book,
GIFT IDEA #5- Candles
I don't know any woman who doesn't love a deliciously scented candle. I'm sure they exist, but I don't know any!
My friend Katie runs Oh Soy Memorable Candles in memory of the twins she lost during pregnancy several years ago. Her hand-poured, 100% soy wax candles come in a variety of scents and melt beautifully! Plus, you are supporting a hardworking mom when you buy handmade over some of the "big" candle companies!
GIFT IDEA #6- Notecards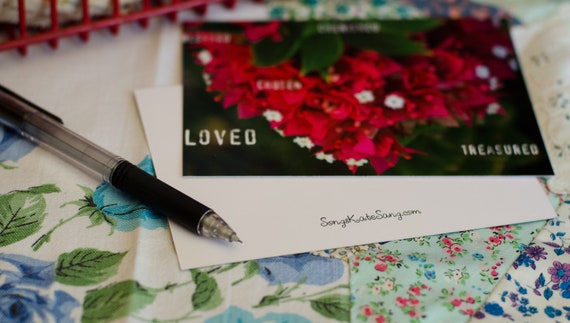 I love receiving "snail mail". And from time to time, I try to send some to my friends and family! Notecards will never go amiss for the thoughtful woman. Check out Songs Kate Sang for some lovely offerings, including these notecards.
Now as promised: a giveaway for one lucky reader. One of you will receive
a copy of The Travel Mamas' guide from Travel Mamas
a 6 or 8 oz candle (your choice of available in-stock candles) from Oh Soy Mom
a $25 gift certificate to Clothes Minded
and an 8x10 print of your choice from Life Created.
Keep them for yourself or use them for your holiday gift-giving (no one will ever know you won them!)
a Rafflecopter giveaway
I'm not the only one doing a giveaway- all my friends are hosting AMAZING giveaways too- so hop around and enter- the more you visit, the more chances you have to win! Check out the ones you missed (they are open for a week past their post date) and tune in for more tomorrow!
Connect with us! You can find us here: